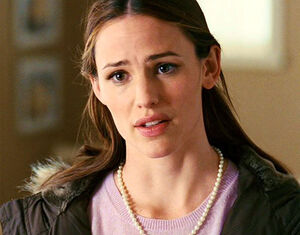 Vanessa Loring is the adoptive parent of Baby Loring (Juno's child)
In the beginning she is seen as a cold controlling wife to Mark Loring but is later shown to be sweet and loving person especially around children. Due to her inability to have children she is excited to finally be able to have a child of her own when Juno agrees on a closed adoption.
In the trailer, for the sequel, of Juno you can see that she, Vanessa, and Mark have gotten back together and are happily raising Loring. The sequel takes place around 9 years after the baby was adopted and the story is about the relationship between Juno&Paulie
Never see her working but she's always buying groceries.
Ad blocker interference detected!
Wikia is a free-to-use site that makes money from advertising. We have a modified experience for viewers using ad blockers

Wikia is not accessible if you've made further modifications. Remove the custom ad blocker rule(s) and the page will load as expected.